Interview with Jon Sa Trinxa
by bronwyn-hope | Interview
Las Salinas Beach, a sun-drenched place with powder soft sands, is located at the southernmost part of Ibiza. Although world-famous for its crystal clear waters and luxury lounge bars, there's another reason why it's marked as a top destination: Jon Sa Trinxa.
The legendary and permanent fixture at Sa Trinxa Beach Club has been spinning since he arrived from London 25+ years ago after a tumultuous journey. When the usual DJ was a no-show, Trinxa hopped on the decks and has been playing 8 hour sets a day, every day since.
Jon Sa Trinxa is a symbol of freedom in Ibiza. But Jon's Ibiza is different. It's not the epic nighttime parties, the screaming soundsystems, and big name DJs. It's daylight hours, ambient tunes, and proof that when you have a good thing going, don't let it go. This Ibiza is where he and his music found their home, with a panoramic view of the ocean and constant smiling faces.
This March 20th, Jon Sa Trinxa will bring his Balearic beats to The Music Room at Potato Head Hong Kong. Don't miss his highly danceable and signature blissed out beats with worldly influence.
We caught up with the man, Jon Sa Trinxa, himself to chat Ibiza, his tunes, and his upcoming documentary.
Electric Soul: You've been playing on Las Salinas Beach every day for 25+ year, dedicating your life to music. You even got your stage name from this story. What made and makes this place so singular for you as a musician, but also as a man?
Jon Sa Trinxa: When I moved to Ibiza, I thought the only way to be successful and fulfilled was to be different. So many DJs fly to Ibiza with the intention of playing. Back in the 80s and 90s, they would bring more or less the same music. So I thought to myself, "what's the point in competing? Just do something different!" I was lucky to get the job at Sa Trinxa, the last bar at the end of a beautiful beach, very chilled (back in the day people there were naked). I really like to experiment with the music and play as many different genres as possible. I also like to improvise. In doing so, I never get bored! Some DJs play the same music night after night- it must get so repetitive and boring. When I find new music, I have the same enthusiasm as I did when I was a kid. If that enthusiasm ceases, then it will be time to hang up my headphones. I would really like to continue working until my final days. This is not a job, it's a vocation, it's my life.
ES: More than music, you aim at creating atmosphere with your unique Balearic style and its overflowing sunny vibes. How would you describe the Ibicenco feel you've been creating and perpetuating with your music at Las Salinas Beach?
JST: Yes it's sunshine music, and very eclectic. I play to the surrounding environment and blend in with nature. I guess everything sounds better under the sun! Ibiza is also very cosmopolitan: people come from all over the world, which is quite amazing for such a small island, so I like to reflect this in the music I play.
ES: How did the mood and the audiences change in your eyes through the 80s, 90s, 00s in Ibiza? How do you feel about this evolution?
JST: The world, not just Ibiza, is constantly changing, so there is no point in trying to hang on to the past. When I first moved to the island, people were far more understated. Rich people really didn't flaunt their wealth. It was common to mistake a gypsy for some wealthy person and vise versa. Also, there were very few VIP areas, which was great. It meant you could meet all kinds of people from all walks of life. Going out in Ibiza in the 80s and 90s wasn't just about the DJs and the music, the excitement was also about the people one would meet. Music was breaking down social barriers there. Socially, Ibiza has been amazing for me. I'm really proud to know so many people from all walks of life, races, classes, religions. The music unites us all as one. Today, Ibiza has changed and is now geared to entertain the super rich, which is a shame.
ES: You're the star of an independent documentary about your experience and daily happiness in this southernmost part of Ibiza you made home. What is the film's purpose?
JST: Yes, it's actually a Japanese film production. The director wanted to capture the alternative side of the Island as most films on Ibiza just focus on the nightlife. Of course, the nightlife is amazing there, but there are many other aspects of the Island that many films about Ibiza fail to explore. So I hope through the film we will capture many sides of Ibiza! After all, it really is a very beautiful island with some of the most beautiful beaches in Europe.
ES: Might we see some adorable street cats in it, like on your Instagram?
JST: Here's hoping! Before I became a DJ, I was a photographer and I loved wandering around the streets of London capturing ordinary life in the big city. During my first trip to Asia, I was amazed how friendly and tame the street cats were, especially in Thailand and Bali. So every time I go out I keep an eye out for the cats. It's not difficult since they are just everywhere, especially early in the morning. I've actually learned to know some of them, at least I think they recognise me!
ES: You'll be playing the idyllic Hong Kong's Potato Head this March 20th. How do you feel about sharing your extraordinary tropical vibe around the world, touring as far as Hong Kong?
JST: I have been playing in Ibiza for 25 years, and I think now is the time to move on. I like the idea of basing myself in Asia and creating something different in new venues like Potato Head. The Asian market is opening up and expanding, and I feel it's a good time to move. Change is always good!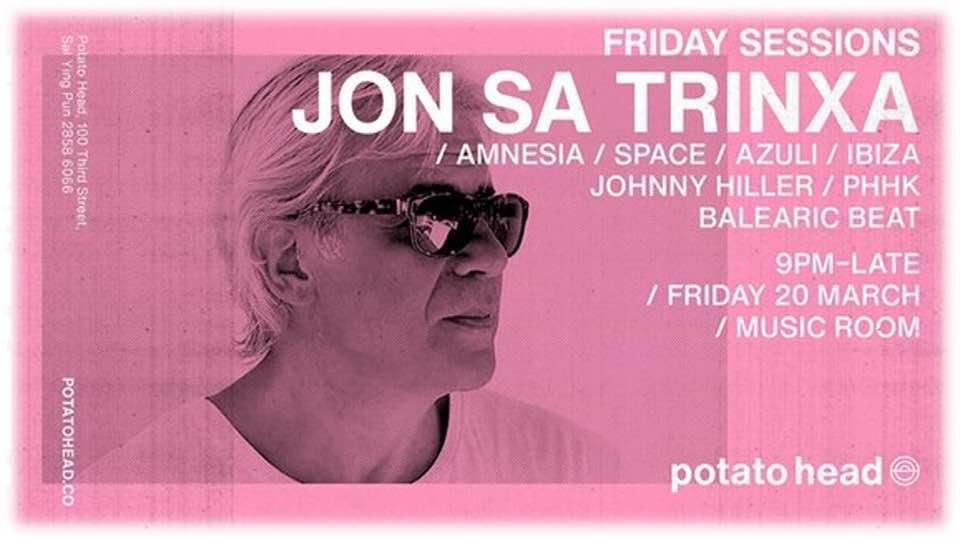 ES: You describe music as your oxygen, and define yourself as an absolute music lover. What is currently spinning on your Funktion-One sound system, and elsewhere in your life?
JST: Life without music... Ouch. I would suffocate! Yes, music is my oxygen or as Shakespeare wrote in Twelfth Night: "If music be the food of love, play on, give me excess of it; that surfeiting, The appetite may sicken, and so die." Music producers I admire are David August and Be Svendsen. The Music For Dreams label is excellent, also music by Jacob Gurevitsch and Ibiza Air... Quality beach music!
ES: Any absolute classics you'd like to recommend to our readers?
JST: I've been in this business for a long time so the list of classics is very extensive and it's difficult to pick among them. But I guess if there is one stand out classic then it has to be "Promised Land" by Jo Smooth. The song has simple message that we may all live in peace and as one. Well, call me a dreamer but I like to live in hope. Life is short, through music I feel I have a duty to promote positivity in a world that at times may seem a dark place.